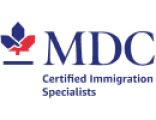 MDC Canada

Mateo Pelletier
*RCICreview editors select and review consultants independently. We may earn affiliate commissions if readers follow the links and sign up, which assist our support in testing and ensuring the quality of our reviews.
MDC Canada Review in 50 Words
MDC or Multi-Dimensional Consulting (mdccanada.ca) is a certified immigration consultant company with good experience and a competent, multi-cultural team of agents. It is a private Limited Canadian company located in Vancouver, Canada.
The company works with registered RCICs to help clients with immigration procedures by offering aid with various immigration pathways as well as support and assistance with the application process.
Why are We Hesitant about Recommending MDC Canada?
Not clear with pricing and packages
No information about pricing
No terms of use
Recommended Alternatives
With dedicated customer care support and transparency on its website, UIS Canada shines through as one of the leading ...
Great North Visa is a leading consulting firm ranking high due to its committed, solution-driven, and high quality ...
Services
With numerous immigration pathways available for potential immigrants, Mdc Canada doesn't let you get overwhelmed. The breezy and friendly evaluation analyzes the program that's just right for you. We're big on personal touches, and the small details in the evaluation to uplift the client's spirit are much appreciated.

For instance, when asked about current employment, selecting 'Yes' prompts 'Great, just don't work too hard!' and 'No' prompts 'Thanks, You'll find Canada has great employment opportunities.' This goes on for all selections, which reflects on the thoughtfulness and dedication of the company.
The immigration services offered by the company are as follows:
Express Entry immigration pathways
Tourist Visa
Working Holiday Visa
Student Visa
Provincial Nominee Program
Live-in Caregiver Visa Program
Pilot Programs (Agri-Food Pilot, Atlantic Immigration Pilot, Rural and Northern Immigration Pilot, Childcare Provider and Home Support Worker Pilot)

You are contacted within 48 hours of your form submission by the account manager who guides you through the immigration program that's right for you, after which you sign the retainer agreement that allows one of the RCICs to start your visa application process.
Other services besides visa programs that can be availed by the client include IELTS preparation courses, start-up visas, and family sponsorship programs. They also offer detailed eligibility evaluation along with CRS score, professional assistance and guidance, and personalized immigration strategy and support throughout the application process.
Prices
MDC Canada is a private immigration consultant company, therefore the prices are somewhat high. According to one review, they are not very clear and precise about their pricing, and the whole process can cost a lot more than the quoted price at the start of the application. No specific package or payment plan was found on their website.
Customer Service
MDC Canada seems to have dedicated customer service. One of the biggest attractions of the company is its multicultural team that offers services in several languages including English, French, Italian, Spanish, Korean, and Japanese. They have a live chat option on their website, and the response to that is prompt. The FAQ section is also quite helpful, and there are multiple ways to contact the company, including email, telephone number, and a physical address.
Other Perks
Besides the main immigration services, you are also guided through the procedure with help in uploading documents and getting started with IELTS or other accepted language courses.
RCICs
MDC Canada works with registered RCICs. The four RCICs listed on their website are David Allon (#R513335), Ying Liu (#R521924), Jimmy Park (#R510391), and Giovanni Mariella (#R705710).
The RCICs are well-trained, qualified and up to date with the Canadian immigration policies. Being connected to the main authorities, an RCIC takes informed decisions on a clients' behalf while keeping their individual needs and eligibility in mind.

Online visibility
Website
You'll find almost all the information you need to make up your mind about immigration on MDC Canada's website. They have detailed information regarding various visa procedures, the need, and the importance of an authentic RCIC to help with your application process, as well as recent news and insight about the various provinces, territories, and cities of Canada.
This prepares potential immigration for what's to come and also eases some of their doubts and worries. They have terms and conditions, and we also admire the high level of transparency on their website.
Social Media
MDC Canada has a good social media presence. Their Facebook page has over 16k followers and they actively post on their page. However, the number of likes is very few and there's almost no interaction on any post. Their Instagram has over 5k followers. The page is active with minimal interaction on posts, and the main information is highlighted in their stories. The Twitter account only has a handful of followers but they are active with posts on Twitter as well.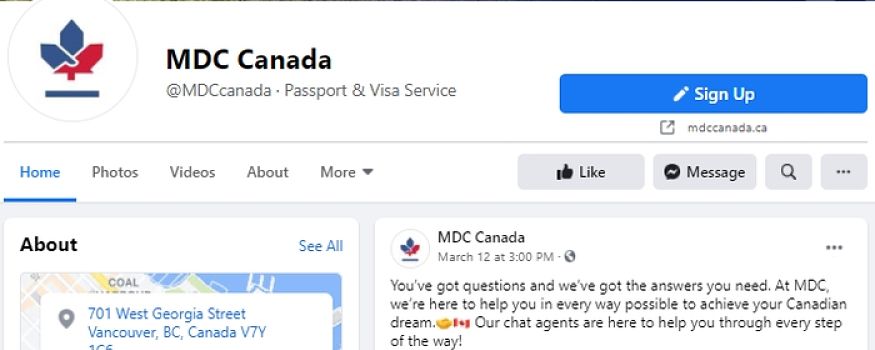 Get in Touch
Phone number: +1 604 449 1100
Email: support@mdccanada.ca
Address: 700 W Pender St, Vancouver, BC V6C 1G8 Canada
Editor's Conclusion
MDC Canada seems like a reliable company, given how comfortable they are with sharing all the necessary information about their practice and hiring RCICs.
The service is precise, to the point, and the attention to detail is laudable. The company is easily reachable and the customer service seems to be up to the mark.
PROS:
Transparent and easy to reach
Registered RCICs with details on the website
CONS:
Not clear with pricing and packages
No information about pricing
No terms of use

MDC Canada