Solid Visa

Chloe Stevens
*RCICreview editors select and review consultants independently. We may earn affiliate commissions if readers follow the links and sign up, which assist our support in testing and ensuring the quality of our reviews.
Solid Visa Review in 50 Words
Running successfully as a private immigration firm, Solid Visa (solidvisa.com) has a lot to offer to its clients with a highly professional team and a huge variety of visa programs. The company is owned and operated by IMG Services and Consulting (registration number: 305578267) and registered at Vilnius, Architektų g. 56-101, Lithuania.
By fast-tracking the application process and helping with the completion of all necessary documents and forms, Solid Visa covers all grounds to help their clients immigrate to Canada successfully.
Highly informative website with a huge variety of services
Many ways to contact the company
Provides information about immigration consultants
Have terms of use, login, and live chat option
Why Do We Recommend Solid Visa?
Services
These are the following immigration services provided by Solid Visa:
Express Entry Programs
Family Sponsorship
Provincial Nominee Programs for all the provinces and territories of Canada.
Quebec Immigration including Quebec Skilled Worker Program, Quebec Experience Class, Quebec Entrepreneur Programs, Quebec Investor Program, and Quebec Self-Employed Program.
Business Immigration including Business Visitor Program, Provincial Entrepreneur Programs, Self-Employed Programs, and Start-up Visa Programs.

They provide thorough information about all the immigration programs offered on their website, along with the requirements and inadmissibility factors which can really help a potential client self-assess and decide which program is best for them.
The company also helps with verification of legal documents in line with the IRCC standards, IELTS preparation courses for improved language skills, aids with finding a good job in Canada to have financial stability right from the start, and all the security and privacy one would expect with the collection and processing of their personal information.
Besides immigration visas, Solid Visa's services also include temporary visa programs as follows:

Canada Temporary Resident Visa
Temporary Work Permit
Temporary Foreign Worker Program
Open Work Permit
Working Holiday Visa
Electronic Visa Authorization (eTA)
Study Permits and Post-Graduation Work Permit
LMIA-Based Work Permit
LMIA Exemptions
Work Permit Exemptions
International Experience Canada Program
There is also a free evaluation form on the website that can be submitted in order to connect with an agent and assess your case with them. The impressive range of services is very convenient for clients, as they can find everything in one place instead of finding different services with different agencies, and we find it as an advantage.
Prices
The pricing starts at $600 for a single applicant and $1000 for family applications. These services include access to the immigration platform and a personal immigration consultant, as well as 24/7 updates in application status and a complete checklist of all the required documents. Depending on your case and needs, the pricing can vary.

Customer Service
There are many ways to get in touch with Solid Visa, and they have a live chat option on their website too. We can't assess the size of the team from their website, but overall reviews about the company suggest that they are prompt with their services and have satisfactory customer service.
The majority of the reviews about their services are positive, with satisfied clients stating that they had 'no complains' and that the company helped with all the application procedures including upload of documents and improvement of English language level.
However, there are a few reviews with complaints about their refund policy and charging extra fees. These comments are much fewer when compared with the positive reviews.
Other Perks
We are highly impressed by the variety of services offered by Solid Visa, not just for the application process but all the necessary steps along the way. The company helps with document uploads, IELTS preparation and safeguards the customer's privacy and security.
They also help with job search which hugely impacts a new immigrants' life in a positive way by giving them financial stability right from the beginning.
RCICs
Solid Visa states that "we have assembled the best team of professionals to handle all the complications in the best way possible." And after taking a close look into the matter, we tend to agree with them.
They have mentioned five immigration consultants on their website. The diversity and multiculturalism of their team surely give a personal touch to every individual's application, as Canada is a multicultural country and the agents understand the challenges and perks that come with it to guide the clients in the best possible way. You can also contact their legal department legal@solid-visa.com for any queries.
Online Visibility
Website
Solid Visa has a great website with a contemporary layout and easy access for clients. They have provided much information about their visa programs and have separate sections to explain the application process, receiving an ITA, and tips for immigration.
They also offer free evaluation on their page and have a section dedicated to Canada with insightful articles and info on the economy, healthcare, and other facets of life in the country. The company also presents detailed information about its practice and immigration consultants. The website has a live chat option, FAQ section, and terms of use.
Social Media
Solid Visa has a Facebook page with over 54k followers and it is frequently updated with a handful of likes on each post. The amount of following is quite impressive and strongly suggests a good online presence. You can find articles related to immigration and life in Canada on their page.
Get in Touch
Canada phone number: +16139270557, +12045996494, +12044307444
UK phone number: +447700398754
Email: info@solid-visa.com
Address: 116 Albert Street, Suite 200&300 Ottawa, ON, Canada K1P 5G3
Editor's Conclusion
Overall, Solid Visa looks like a slid (no pun intended) consultancy. Clients are guided throughout the application process for a large number of visas offered by the company.
They not only help with the application process but also with the document upload, language tests, finding a job, and assistance with post-landing such as opening a bank account in Canada, applying for a healthcare card, job search, etc. which is very impressive. Besides, the professionalism reflected on their website really speaks tons about the competence and legitimacy of the firm.
11 reviews for
Solid Visa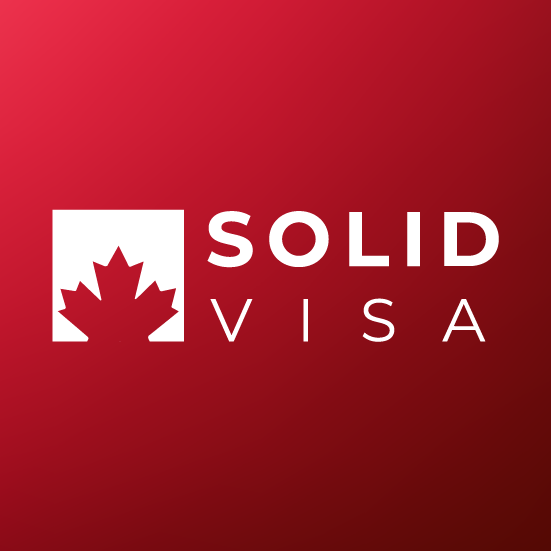 Solid Visa