Canadian Visa.org

Chloe Stevens
*RCICreview editors select and review consultants independently. We may earn affiliate commissions if readers follow the links and sign up, which assist our support in testing and ensuring the quality of our reviews.
Canadian Visa.org Review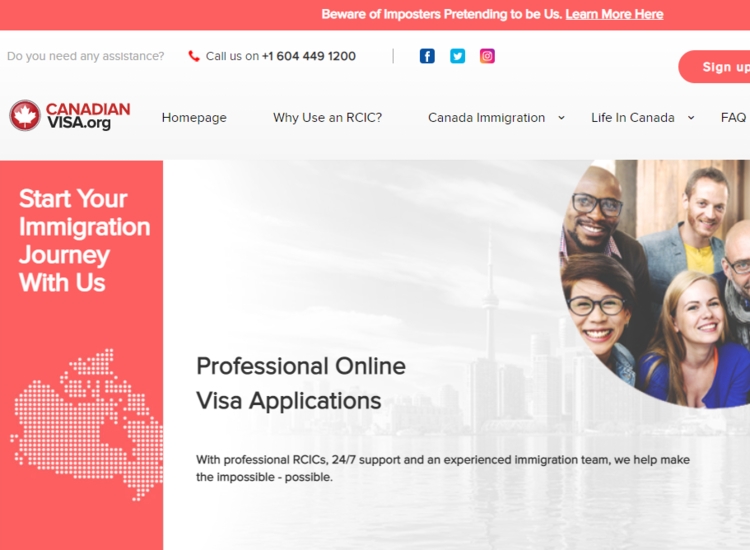 About the Company in 50 Words
Located in Vancouver, Canada, CanadianVisa.org is an immigration consultant agency working with a team of registered RCICs. The company specializes in visa services to get permanent residency in Canada. Their website also mentions that they assist with the application process including legal services, counseling, and professional advice for potential immigrants. CanadaVisa.org is an accredited agent of Multi Dimension Consulting, which is a privately owned Canadian immigration consultancy agency also located in Vancouver.
Services
You'll find a long list of immigration services on CanadianVisa.org's website. Here are all their mentioned services:
Express Entry
Professional and Skilled Worker Programs
Provincial Nominee Program
Family Sponsorship Program
Business Immigration
Study in Canada
Visitor's Visa
Work in Canada
Permanent Residency
Working Holiday Visa
Investor Visa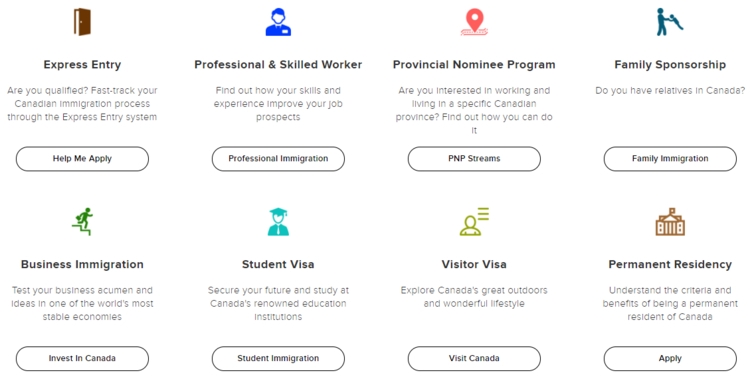 They also have services specifically tailored to particular professions, making it easy for skilled workers to find hassle-free immigration pathways that suit their case the best. They have a section dedicated to live in Canada in which they highlight the provinces that are easier for immigration and settlement, as well as immigration to Canada for truck drivers, pharmacists, doctors, teachers, and couples. You'll also find information on Canadian universities.
Some reviews do mention that they insist on student visas rather than the Express Entry program after assessment, but we could only find a couple of people making this complaint. However, their website does have a special emphasis on education, Canadian universities, and student visas. One thing to note here is that a student visa is a temporary residence visa that can add to your points to make your permanent residency case strong.
What we really liked about their website is the tons of information provided on life in Canada, with every province/territory having its own section. For employment, they provide information regarding Resume Writing, Job Applications, Interview Questions, and much more. They also provide information and support with IELTS.
There is no mention of post-landing services such as resettlement, job search, help with finances or housing/rent, etc. on their website. Other companies offer similar services and are of great help to future immigrants so we find that as a downside.
Price
Clear pricing for initial assessment or different immigration packages is not mentioned on their website. As migrations are not cheap, it is essential for customers to understand the magnitude of future expenses, so we expect this agency to act more transparently.
Based on a review, the initial assessment fee to start your case is around $50, and the immigration procedure can cost from $1500 – $4000 depending on your case.

Customer Service
CanadianVisa.org seems to be lacking in its customer service. They do have a live chat option on their website and you will get prompt responses to your queries. However, this review suggests that the customer service representatives are not as cooperative or friendly once the payment is processed. Overall, there are several ways mentioned on their website to reach them and get in touch, and the live chat option is a great feature and very convenient for new clients.
Other Perks
It is quite impressive how they have a section dedicated to IELTS preparation on their website, as well as fraud/scam alert and information regarding life in Canada and employment. However, they don't offer any post-landing services that can be helpful for new commerce.
RCIC
On CanadianVisa.org's website, they mention three RCIC agents working in their team along with their registration numbers. They are David Allon #R513335, Ying Liu #R521924, and Jaehyun (Jimmy) Park #R510391.

Online Visibility
Website
The website of CanadianVisa.org is remarkable with a lot of information regarding different immigration pathways, life in Canada along with details of its provinces and territories, and what to expect as a new immigrant in Canada. They have a dedicated Blog section that stays up to date with recent news and information. They also have a FAQs section and a live chat option. Overall, their website is very well constructed and informative.
Social Media
The company has a decent online presence with a Facebook following of 302,808 followers. The page is up-to-date with frequent posts but only a handful of likes and zeroes interaction under them. They have 100k followers on Instagram with minimal to no interaction under posts, and 8,023 followers on their Twitter page which they actively update.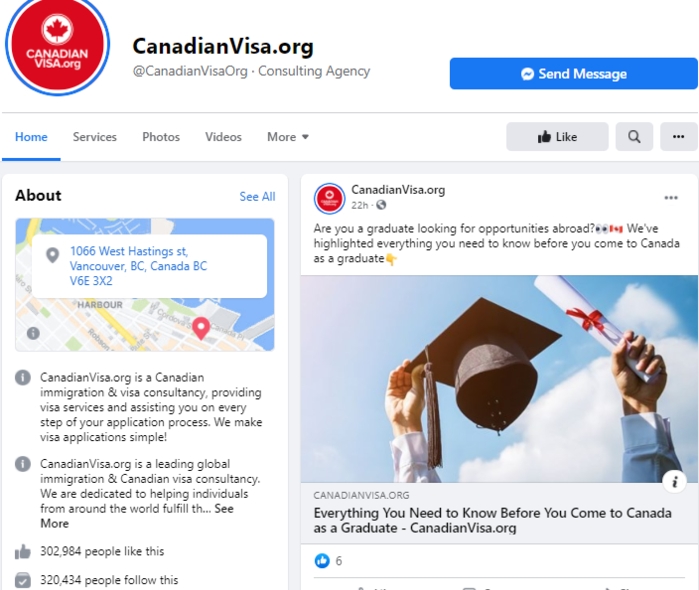 Conclusion
Considering the transparency on their website and attention to detail with a lot of information, CanadaVisa.org takes the cake when it comes to online visibility and services offered. A little improvement in the customer service department and a clear quote of pricing can really help the company achieve a better repute.
Get in Touch
Their office is based in Vancouver under the following address:
700 W Pender St, Vancouver, BC V6C 1G8, Canada and Phone: +1 604 449 1200. You can also email them at csr@canadianvisa.org. They also have a live chat option with prompt responses.
PROS:
Highly informative website.
Works with registered RCICs
Good social media presence
Live chat option
Help with IELTS preparation
CONS:
Bad reviews about customer service

Canadian Visa.org