Ackah Immigration Law
Winston David
*RCICreview editors select and review consultants independently. We may earn affiliate commissions if readers follow the links and sign up, which assist our support in testing and ensuring the quality of our reviews.
Ackah Immigration Law Review

About the Company in 50 Words
Focusing exclusively on immigration law, Ackah Law or Ackah Immigration Law is (www.ackahlaw.com) founded and run by lawyer Evelyn Ackah. She is a managing lawyer at the company and has been in practice since 1999 with recognition in the Law Society of Alberta and Law Society of Upper Canada. Along with the managing lawyer, the company also employs an associate lawyer and a contract US Attorney. The firm is based in Calgary, Alberta, and deals with both personal and corporate immigration cases.
Services
There are two main categories of immigration/visa and law services offered by Ackah Law:
Personal Immigration
This is for individuals and families and includes the following immigration and non-immigration visa programs:
Permanent Residency via Express Entry, Provincial Nominee Program, Family Sponsorship, Self-Employed Applications, Entrepreneur Applications, Home Caregiver/ Support Worker, Start-Up Visa Program, Global Skills Stream, Quebec Immigration (QEP), Quebec Selection Certificate (CSQ), and Quebec Acceptance Certificate (CAQ).
Tourist/Visitor Visa including Super Visas, eTA, and Temporary Resident Visas.
Work Permit and LMIA, along with International Mobility Program, Global Talent Stream, NAFTA (North America Free Trade Agreement), CETA (Comprehensive Economic and Trade Agreement), CCFTA (Canada-Chile Free Trade Agreement), GATS (General Agreement on Trades in Services) and Intra-Company Job.
Study Permit including IEC Co-op Internship, Canadian Experience Class, and Post Graduate Work Permit.
IEC Young Professionals, IEC Working Holiday Program, and Super Visa.
Inadmissibility Issues and Waivers including Medical Inadmissibility, Criminal Inadmissibility, Marijuana Legalization and Decriminalization, U.S Visa Waivers of Inadmissibility and Temporary Resident Permit.
Corporate Immigration
These services are specifically designed for businesses and include the following:
Cross-Border Business Immigration (Canada and U.S) including Self-Employed, U.S Business Visitor and Tourist Visas, Treaty Traders and Investors E-1 and E.2 Visas, Speciality Occupations: H-1B Visa, Study Permit: F-1 Visa, Intra-Company Transfers: L-1 Visa and TN NAFTA Visa.
Business Travel including eTA, Temporary Residence, Business Visitors, and Work Permit Exemptions.
Work Permits
Permanent Residency Programs including Self-Employed and Entrepreneur Applications.
Business Immigration Programs
Inadmissibility Issues and Waivers
Temporary Foreign Worker
There is sufficient information about all the services they offer, along with a free CRS score calculator and a whole section of resources that mentions selection factors, newsletters, podcasts, free eBooks, and a checklist for documents – all of which greatly help with the entire immigration process.
There is no mention of post-landing services on the website which we consider as a downside.
Price
The one-hour legal consultation fee is $500 after a free initial assessment via filling out a form and talking on the phone. There is no mention of visa packages under any service that could be helpful in estimating the cost of the process for new clients.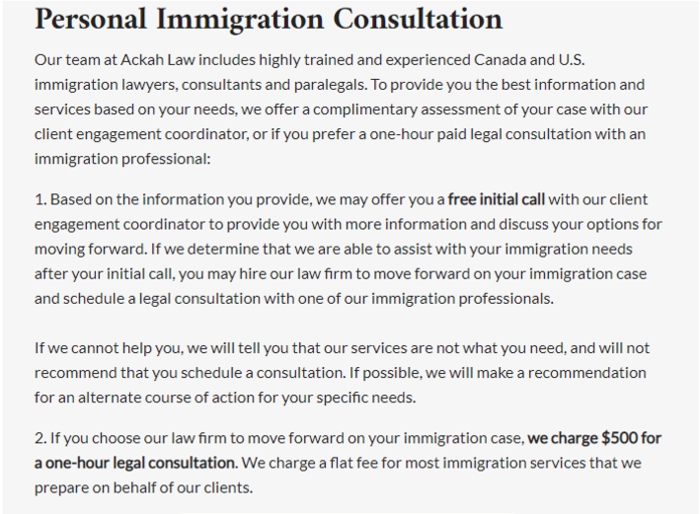 Customer Service
The company gives an overall impression of having dedicated customer service. The team is quite decent in size, which indicates that they are prompt with their responses. The website does have a live chat option but it asks for contact information rather than answering queries with prompt responses which made us wonder what is the purpose of the chat.
Other Perks
Ackah Law offers an impressive range of visa services for both immigration and non-immigration applications, and they provide sufficient resources – most of them free, including podcasts, eBooks, and a checklist to make their client's life easy. There is no mention of post-landing services such as help with housing/rent, financial assistance, and resettlement services. Those services can make the settlement much easier for new immigrants. Further, finding all those services in a single place could turn this agency into a preferred one.

RCIC
We found Ackah Law to be transparent and informative about the team that works together to help further your immigration case. The two registered RCICs mentioned on their website are Ginette Mangena and Regina Ramos and having only two lawyers making us wonder whether they can handle the number of applications they receive. Information about consultant lawyers is also present, but there is no registration number mentioned for any of them.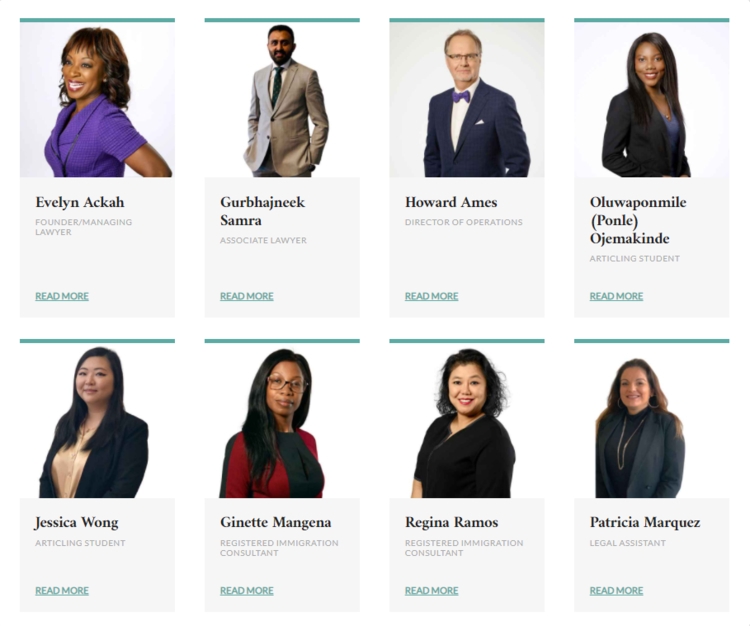 Online Visibility
Website
The website of Ackah Law is quite layered. The links and categories are further subcategorized, so that at first glance it may not seem as much, but the further you explore it the more you will know about their firm and services. They have a news section that they keep regularly updated, an FAQ section, a privacy policy, but no terms of use or refund policy.
Social Media
Ackah Law has a Facebook page with over 4.8k followers with regular posts but no interaction with possible new clients. You can also find them on Instagram with over 1k followers and regular postings, Twitter with even fewer followers but regular updates, and a YouTube channel with a wealth of knowledge and 870 subscribers.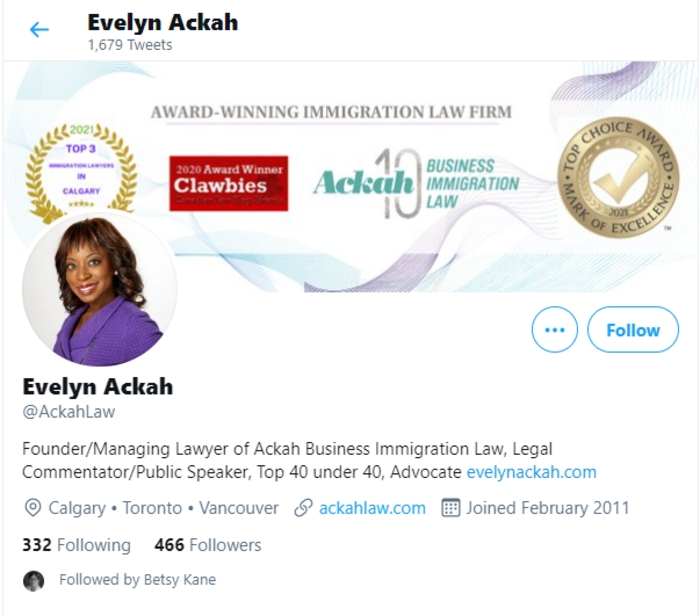 Conclusion
We found Ackah Law driven, devoted and passionate with moving backstories and impressive contributions. A lot of information can be found on their website, and they seem to have strong customer support. However, the lack of terms of use and refund policy does impact the overall value and reliability of the company. Remember that immigration consultancy services will usually be cheaper than law firm services in most cases.
Get in Touch
You can get in touch with Ackah Law on their phone numbers: +1 (587) 316-9082 and +1 (587) 316-9082. The toll-free number for Canada and US is +1 (800) 932-1190. Their email address is contact@ackahlaw.com and they take appointments for consultation in all three branches of the company as follows:
Calgary: Ackah Business Immigration Law Suite 101, 1401 – 1 Street SE Calgary, Alberta T2G 2J3
Vancouver: Ackah Business Immigration Law 1150, 855 W. Georgia Street Vancouver, BC. V6C 2G2
Toronto: Ackah Business Immigration Law Toronto Waterpark Place, 20 Bay Street, 11th Floor Toronto, Ontario M5J 2N8
PROS:
Great online visibility
A large number of services and resources available on the website
Multiple ways to contact the company
Informative and detailed
CONS:
No terms of use
No mention of price packages

Ackah Immigration Law